Types of Filter
Authorization filters

Authorization filters run first in the pipeline and useful to determine if the current request is authorized. Authorization filters can short-circuit the remaining pipeline if the request is not authorized.

Resource filters

Resource filters invoke right after Authorization filters. They are used for caching, short circuit rest of the pipeline, validate content type requested is correct.

Resource filters execute before model binding so you can handle binding for the specific requests.

Action filters

Action filters run before and after the actual MVC action method. code executes. They are useful to manipulate arguments passed, as model binding already happened.

Action result can short circuit the rest of the pipeline and or redirect to different Action Method.

Exception filters

Exception filters are useful to write MVC specific error code, to handle all unhandled exceptions globally.

Result filters

Result filter runs before and after IActionResult of Action Method executed successfully. You can override the result of IActionResult using the Result filter.
Sequence of Filter execution
The following diagram shows the sequence of Filter Execution. Request pipeline executes Authorization filters first, if authorization is not successful then the rest of the pipeline is not executed. Similarly, other filters can escape the remaining pipeline if any validation fails.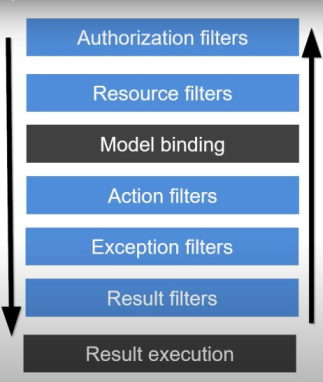 In the following sections, we will implement all-action filters using the ASP.NET Core MVC web application. You can follow Getting Started with ASP.NET Core MVC and .NET5 to create .NET Web application.